Florida Investors has provided property management for residential and commercial properties since 1984. Known as a premier property management company in Southwest Florida, Florida Investors is in fact a full service Real Estate brokerage company that provides property management services and there is a big difference.
As a full service commercial and investment realtor, property manager and single-source builder we assist investors and property owners from all over the world purchase, sell, and manage investment and retirement/seasonal properties including commercial land, office buildings, seasonal homes and residential portfolios. Our goal is to minimize expenses and maximize your capitalization rate so you can purchase more properties. In the end we help you grow and we grow as well. Its a WIN-WIN.
Since Florida Investors receives compensation from many different areas, unlike a traditional management company, we do not have to focus solely on the management side to maximize our income. Therefore we can do things a little different to minimize the costs associated with normal property management. For example, there are no set up fees to get your property up and running. We also do not require any mandatory reserves to hold in an account in case of maintenance calls. We also do not have to charge for additional inspections on your investment. Properties are inspected on a regular basis.
The management fees are based on a percentage of the gross income and leasing commission on new and renewal tenants. We eliminate the tenant turnover with a detailed application and screening process and then strive to keep the tenant happy and in place. We treat our owners and our tenants with respect. We take care of your properties as if they were our own.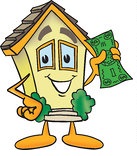 Harry House says "I WANT TO SAVE YOU MONEY!"